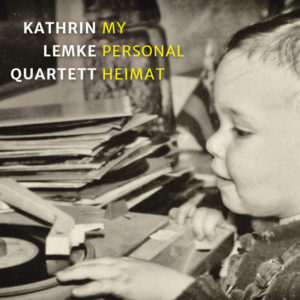 CD fixcel 13
Rel. 10/2016
Buy CD @ Jazzshop der Jazzpages kaufen
Kathrin Lemke Quartett
MY PERSONAL HEIMAT
Kathrin Lemke, as
Niko Meinhold, p
Adam Pultz Melbye, b
Michael Griener, dr
Bolle reiste jüngst zu Pfingsten 04:58 | The House of the Rising Sun 06:34 | Captain Future 07:15 | Ich hab´ mein Herz in Heidelberg verloren 05:40 | Bella Ciao 04:30 | Ebendadort 05:21 | Das Lied der Schlümpfe 03:27 | Ich wünsch´ mir ne kleine Miezekatze 05:17 | Am Rio Jarama 06:35 | Dem Milners Trern 04:16 | Abschied vom Walde 03:53 | Abendstille überall 01:48
Total Time 59:34
"The musician deals with the originals in a fascinating way, lets parts of the melodies flash up again and again, even if they have been transposed alienated to the instruments of her quartet with pianist Niko Meinhold, bassist Adam Pultz Melbye and drummer Michael Griener. Thus the music pulsates in Lemke's arrangement with the leader's sound-colouring saxophone.
Sometimes the music flows like in "Bolle's" journey, sometimes it strides gravely like in the "Heidelberg" song. The saxophone solo in "Song of the Smurfs" sounds like an exercise, which at the same time testifies to the creative power of the artist. "Ich wünsnsch' mir eine kleine Miezekatze" is full of humour and, like all arrangements, proves the joy of playing of the participants.
Her own composition "Ebendadort" betrays the saxophonist's independence, which preserves tradition and plays it out in many arrangements, but often elevates it to the level of free jazz, as in "Abschied vom Walde". Thus the twelve compositions are condensed into entertaining, emotionally coloured and exciting miniatures in which improvisation plays an important role."
(Klaus Mümpfer, Jazzpages)
In July 2015 it was time to take stock, to reflect upon oneself, to look at one's own musical roots. So saxophonist Kathrin Lemke and her quartet, in which Niko Meinhold played piano, Adam Pultz Melbye bass and Michael Griener drums, went to Studio H2 in Berlin's Funkhaus Nalepastrasse (where the former "Rundfunk der DDR" (Radio of the GDR) was based from 1956 to 1990).
"My Personal Heimat" became the title of the recording, and Kathrin Lemke looked far back to the beginnings of her musical socialisation, right into her early childhood years. It was a time when jazz was still somewhere beyond her musical horizon, when the first songs were warbled from the famous "mouth organ" and hits from the few public radio and television stations were heard.
Who could or wanted to escape the musical catchy tunes at a young age? And how uninfluenced can these melodies leave you unaffected by youth?
Kathrin Lemke knew about the importance of her musical homeland, was able to handle the material with virtuosity and thus moved in a fine jazz tradition – after all, the refinement of "Gassenhauer" can be found throughout jazz history.
It takes a love of melodies to perceive the good centre of the compositions and the sensitivity to take these inspirations over into a very personal jazz approach. Kathrin Lemke did it and was not alone on her voyage of discovery, she had put together a great quartet to go on this journey with her.
At first sight, some strange to funny influences came together. Musical "pearls" like: "I wish for a little kitty cat", the "Song of the Smurfs" or "Captain Future" – a certain amount of confidence is required to press such titles onto a jazz album.
The records which could be heard in her parents' house in Heidelberg also became an inspiration: "Am Rio Jarama", the revolutionary song from the Spanish Civil War, and "Bella Ciao", the anthem of the Italian anti-fascists, all the way to "Abschied vom Walde" by Mendelssohn Bartholdy.
The "Personal Heimat" also includes Kathrin Lemke's personal geographical biography: Her adopted home Berlin can be heard with "Bolle recently travelled at Whitsun" and of course her native Heidelberg of her youth with "Ich hab' mein Herz in Heidelberg verloren".
Many of these songs have a musically simple core, with simple melodies. But the slightly ironic so-called "pearls" lose their quotes with the transformation into the jazz genre. Just as layers of mother-of-pearl lay around a grain of sand and turn this grain into something completely new and shimmering, Kathrin Lemke and her quartet succeed in refining the qualities of the original material, enveloping it in musical mother-of-pearl.
After a few bars, the already bustling Berlin Bolle turns into a hectic bouncing back and forth in the free jazz field. With his bass intro, Adam Pultz Melbye sets the dark mood of "The House Of The Rising Sun", in which Meinhold and Lemke later stalk around in harmonic no-man's-land. And in "Bella Ciao" Michael Griener enchants pulsating rhythmic sculptures in dialogue with Pultz Melbye.
The gloomy tones on "My Personal Heimat" cannot be ignored: "Captain Future" only ventures out of the thicket of drums, bowed bass and piano with a thin saxophone voice. And "Ich hab' mein Herz in Heidelberg verloren" becomes Funeral March.
It is bitter that this musical statement is the last of Kathrin Lemke. The quartet's namesake died on 22 January 2016, much too soon after a long struggle with a malicious illness. An irreplaceable loss for her relatives and friends and also for the jazz scene. Thus, her musical legacy has become her musical legacy.
Kathrin Lemke's last studio album will be released at the end of October 2016 – one year after she played this programme in the CD line-up in the vaulted cellar of the Jazzinstitut Darmstadt. It was her last concert. Anyone who attended will remember Kathrin's shining eyes, her joy in music – including talking about it – and her joy of life. We can be grateful to have had her, to still be able to hear her and for the fact that Kathrin Lemke has left her musical traces.
The musicians
Kathrin Lemke (sax, comp) studied at the Frankfurt Music Workshop from 1993 to 1999 until she graduated as a professional musician and instrumental teacher. She received a scholarship from the Berlin Senate for a two-month stay in New York. In 1998 Lemke founded her own formation JazzXclamation, with which she released four CDs. Since 2009, she has been the leader of the Sun Ra tribute band Heliocentric Counterblast, two of whose highly acclaimed CDs have been released by Enja. Kathrin Lemke has played numerous concerts with her formations in Germany and Europe and has also toured Canada and Bolivia. Kathrin Lemke passed away on 22 January 2016.
www.kathrinlemke.de
Niko Meinhold (p, comp) studied at the HfM "Hanns Eisler", the Jazzinstitut Berlin and at the Kungligan Musikhögskolan in Stockholm. Currently studying Moungongo and Bwitimusic in Gabon. Meinhold composed for various ensembles, also for orchestras, radio big bands, film, theatre and television as well as for CD productions. Currently he is focusing on experimental compositions and cross-genre performances for various formations, including the Niko Meinhold Ensemble and the Trio Kokotob. Meinhold is the winner of various jazz awards. He has toured and played at numerous festivals in Europe, Asia, North and South America and Africa and has taught at institutes in Berlin, Bogotá and currently also at HMT Rostock.
www.nikomeinhold.de
Michael Griener (dr) Michael Griener comes from Nuremberg and has lived in Berlin since 1994. Already in his early years he has been dealing with the whole jazz tradition, free improvisation and new music in detail & independently and is also otherwise quite curious how and with whom one can make good music. Subsequently, he played at La Scala in Milan as well as at the VISION Festival in New York and the Berlin Philharmonic. "On all occasions he proved to be the ideal cast, not because he lacks a profile of his own, but because he knows how to feed every idea, no matter how special, with his own esprit…". (Eric Mandel). Griener has been teaching percussion at the Dresden University of Music "Carl Maria v. Weber" since 2002. In 2006 he was awarded as "most creative soloist" at the New German Jazz Award Mannheim.
www.michaelgriener.de
Adam Pultz Melbye plays double bass, electronic instruments and is active as a composer. He is originally from Denmark and currently lives in Berlin. His musical focus is on free improvisation and electronic soundscapes. Adam Pultz Melbye tours worldwide and has played with musicians such as Pat Thomas, Mark Sanders, Evan Parker, Paul Lovens, Yasuhiro Yoshigaki and Michiyo Yagi. In the field of electronic music he performs with the duo Toggle (with Mads Emil Nielsen) and Ouroboros with Chris Heenan and Michael Vorfeld, among others.
www.adampultz.com
Master: Uwe Haas
Cover Photography by Irene Lemke-Stein / Band Photo (colour: Manuel Miethe /
other photos of the band an Kathrin Lemke: Frank Schindelbeck
Press material for "My Personal Heimat"
Kurzinfos