LP fixcel 15
Rel. 10/2018
You can buy the vinyl directly from the artist: Erwin Ditzner.
Buy LP at Jazzshop der Jazzpages

LP with original photography: limited fixcel photo edition
Aki Takase / Silke Eberhard / Sebastian Gramss / Erwin Ditzner
DITZNERs carte blanche –
Live at Enjoy Jazz Festival 2017
Aki Takase, p
Silke Eberhard, sx
Sebastian Gramss, b
Erwin Ditzner, dr
Press
"

Dietrich Wappler, Rheinpfalz
Right at the beginning Takase gives a first statement with resolute chords. Silke Eberhard sets calmer saxophone tones against it, Ditzner's nervous drumming drives the whole thing, Sebastian Gramss cools it down with thoughtful bass swabs. With increasing intensity, everyone pulls together, the sound structure becomes denser, and the energy level rises dangerously, until at some point a casual walking bass saunters away and the saxophone lays a surprising hardbop line over it.
It's really like a successful table talk: One person tells a story, another comes up with his own story, another person contradicts, and all of them get together to discuss an interesting topic."
Dietrich Wappler, Rheinpfalz
"The musicians don't stick up to the rules and traditions – they combine together the roots of 1960's avant-garde jazz to the newest innovations of free improvisation and experimental jazz. Inventive ideas, original point of view, fresh and evocative expressions, spontaneous solos and incredible instrumentation is the base of compositions."

"Trendy and marvelous duos of piano and saxophone brings the pleasure, drive and joy to whole album. Bass is subtle and effective. Sebastian Gramss creates a deep and static bass line, which is contrasting with moving, wild, franzy, luminous and passionate solos."

"Erwin Ditzner (…) vibrant, aggressive, moving and impressive. Typical forms of modern and experimental jazz rhythms are mixed up with afro-american music, roaring drum rolls, dizzy passages, trembling and moving tremolos, extremely loud thunders, breaking sessions, frantic culminations or subtle pauses. All musicians have wide musical language, precise and virtuosic playing technique and impressive instrumentation. Experimental, shocking, weird, crazy, modern and traditional ways of playing are mixed up together. The album has expressive and sparkling sound."

Avant Scena

Liner Notes byJan Künemund
maybe this music will be readable from the end. erwin ditzner's carte-blanche band, edition 2017, plays scissors-stone paper. two musicians use four gestures at the same time – playing nothing is part of it, too. the combinations cause laughter in the audience. clarinet growl vs. piano cluster. glissando vs. hi-hat whirls. squeaky pig vs. bowed overtone. wood-sheet metal gut fur. silke eberhard, aki takase, sebastian gramss, erwin ditzner anticipate the gestures of the others. variety of units, of sounds. of course it is not about which gesture brings victory, but whether it comes through and what triggers it.
wood collides with sheet metal. gut wraps around the coat. sheet metal makes the gut vibrate. wood resonates with the coat. viewing and playing directions change, the speed is high.
aki takase's move into the dramatic is hacked up by the others. her glissando is swirled by ditzner's pelvis. in eberhard's and gramss' short blues abstraction, she suspends, only to demand a new direction of vision with dark chords a little later. when ditzner and gramss agree on swing, takase's highly energetic solo suddenly develops into an anthem with increasing pedal use, at the climax of which eberhard plays a melody. overtones from the bass extend this gesture into the atmosphere. that was only round one. in the second, eberhard and ditzner find a small funk motif that is stubbornly ignored by the piano – until eberhard casually connects to it again and all four of them break up gestural connection at this very moment. new round, new suggestions, an ayler-sax, his accompaniment flows into the gaps, into the air, an abstract marching rhythm emerges, there too all four come together and break up. both lp-sides are ended by gestural miniatures. ping-pong balls in the piano against sax line against bass break against a new, short, rhythm. rearrangement of the lines of vision. in the old firehouse you certainly got something to see – purely acoustically you have to look around. on page two gesticulate first clarinet and bass. ditzner and takase are already two gestures further on: marimba sounds and piano wires. then the pianist suggests mompou chords. gramss' reaction gesture leads to a drone poem into which all generated frequencies slowly flow. the band agrees. final round. carte blanche for everyone. points, connected by straight lines, cut by others. gestures on command. resistance. it squeaks. the audience laughs. the round goes to everyone.
Soundclips
Drummer Erwin Ditzner receives an annual "Carte Blanche" from Rainer Kern, the head of the Enjoy Jazz Festival. An evening on which he can choose his fellow musicians. In 2017 these were the pianist Aki Takase, the saxophonist Silke Eberhard and Sebastian Gramss on bass. The recording of this outstanding collaboration can be heard on this LP, fixcel records 15.
Release: 15.12.2018
Recorded: October, 23rd at Alte Feuerwache Mannheim, Enjoy Jazz Festival
Live-Recording: Thilo Klag / Mix & Mastering: Markus Braun
Photography & Layout: Frank Schindelbeck
Support: Michael Meier, emtechnik
akitakase.de | silkeeberhard.com | sebastiangramss.de | ditzner.de
Downloads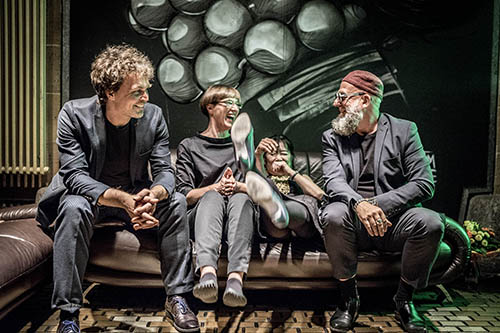 (Photo by Frank Schindelbeck, Use in connection with reporting on the LP permitted)